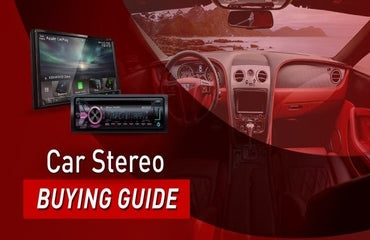 With the latest car stereo receivers, you can take total control of your in-drive experience: Stream your favorite smartphone radio apps or your device's music library from a high-definition touch-screen display. Use voice commands to make hands-free calls and plan routes with GPS navigation. Ratchet up the sound quality and volume with an upgraded audio system. Let Best Buy and Geek Squad® help you find and install the perfect receiver for your needs.
Features
Supported Media — Many of today's car stereo receivers can wirelessly connect through Bluetooth to your smartphone to play music from your library, make hands-free calls and access your favorite apps, including Pandora and iHeart Radio. Wired connections can also be made through a USB port or AUX port. As more states limit the use of phones while driving (at least 14 have enacted complete bans), these functions are increasingly essential to stay connected on the road.
Most receivers still give you the option of playing CDs, while some receivers support DVD playback. These connect with an overhead or headrest-mounted screen so passengers can enjoy movies and TV shows during a road trip.
Display — Large, touch-screen displays make it easy to access your devices and manipulate multiple apps and functions without the distraction of looking at your phone while you drive. These larger displays start at around 6.1" (measured diagonally). Some support video playback from a camera mounted near your rear license plate for enhanced backup visibility.
Traditional CD receivers have also received a technology facelift, with many now capable of wired and wireless Bluetooth connections to your devices. You can also tap into nifty functions like personalized music mixes and multicolor displays that can be matched to your car interior's color scheme.
The dimensions, including depth, of a dashboard opening vary from car to car, so ensure the display you choose can fit within your opening. If the opening is too large, installation adapters can be added around the edges to provide a snug fit.
Satellite Radio and HD Radio — Some receivers come equipped with satellite radio, HD Radio or both. HD Radio allows you to listen to your favorite local stations with increased clarity and sound quality. With satellite radio, you can listen nationwide to commercial-free stations covering every genre of music, sports, and the biggest names in talk radio.
Make sure you know whether these capabilities are built into the receiver or if the receiver is merely compatible with them. If the receiver is marked "ready" for HD Radio or satellite radio, you'll be able to access these features by buying and installing additional hardware.
GPS — Some car stereo receivers double as in-dash GPS receivers. These can perform all the functions of a standalone portable GPS receiver, though specifications may vary. If the receiver has built-in GPS it will come with the unit, but if it's GPS-ready you will have to purchase additional hardware to connect with the receiver.
Peak Power — Too much power output from your receiver or amplifier can damage your speakers, while too little will result in less-than-optimal sound quality. There are two power measurements (in watts) to know: peak power, which your receiver can only sustain for short bursts; and nominal power (sometimes noted as RMS), which is the average power output during normal use. The power output is divided among the channels (speakers and subwoofers) your receiver is connected to. For the best sound quality, you'll want a receiver with an RMS that approaches the maximum handling capacity of your channels.
Common Car Stereo Sizes
Stereo openings are classified in DIN standard. DIN (Duetch Industri Normen) is a standardized car stereo opening size, established by european automobile manufacturers in the mid 1980s. If your vehicle was manufactured after 1988 there are for the most part two standardized sizes available in aftermarket car stereos:
Single DIN (or DIN)- the opening for the receiver is roughly 7 ⅛"W x 2"H.
Double DIN - has an opening of 7 ⅛:W x 4"H and is common in newer vehicles.
There are a few exceptions but you probably will not have to worry about that.
Single DIN Car Stereo
Double DIN Car Stereo
What If You Want A Touch Screen Car Stereo But Only Have A Single Din Opening?
Not a problem, there are several manufacturers that offer a Flip Out touch screen display in a single DIN configuration.
Control Your Car Stereo With Your Smartphone
In addition, some manufacturers offer receivers that utilize your smartphone's display to control the car stereo, so that your phone is the touch screen for the receiver. The app-based interface lets you stream music, control the radio, read your text messages aloud, access navigation, make and receive phone calls, advanced audio controls and much more.
What is the type of media that you will be listening to? Will you be listening to CDs, radio, satellite radio, flash drive or SD card; or maybe you would just like to use your smartphone to provide your entertainment? All of these things are possible, and determining what you want at the beginning will make your search that much easier.
Media Playback Options:
Streaming Music: Stream music from your phone directly to your vehicle's stereo
SD Card: Stream your own music from an SD Card. Download compatible audio files from your computer onto the SD card, insert the card into your receiver, and now you can enjoy hours of your own personal music. Compatible audio files depend on the car stereo that you choose.
USB: When connected to your smartphone you will be able to stream or play music files, manage messages and phone calls all while charging your phone. Additional options such as Android Auto and Apple CarPlay are also available depending on the your receiver's compatibility. You can also connect a USB Flash Drive and play compatible music files, it works the same way as it does on an SD Card.
Bluetooth: Enables wireless connectivity allowing you to stream music, manage messaging and phone calls.
BlueTooth + WiFi: Connect wirelessly to your smartphone and have control over your messages, phone calls, cellular navigation, and music streaming. The WiFi allows you to stream data rich app such as navigation to your receiver's display.
Android Auto and Apple CarPlay are available depending on the receiver that you have chosen. Note: The WiFi is only used for larger data streams such as music or navigational data between your smart device and your vehicle's receiver, it is not a WiFi Hotspot.
Android Auto:

 

Brings the Android platform to your Android Auto compatible car stereo. Designed to reduce distractions while driving, Android Auto enables you to manage your messaging, send/receive phone calls, cellular based maps/navigation and play or stream music via simple touch screen input or voice commands, all while allowing you keep your eyes on the road and your hands on the wheel.
Apple CarPlay:

 

Enables your Apple CarPlay compatible receiver to communicate with your Apple smartphone allowing you to access Apple maps, send/receive phone calls and texts, as well as listen to music. All of this is accomplished by a touch on the receiver's touchscreen or through Siri voice commands allowing you to focus on the road and comply with local hands-free laws.
CD/DVD: If this is your preferred method of audio enjoyment, you're in luck. Many receivers support additional file formats such as MP3, WMA and AAC. This means that you can burn a CD from your computer and have 100s of songs on one disk as opposed to 10 - 20 songs on one standard CD.
FM Radio: A standard on almost every car stereo, there are certain specifications that you may want to look into if this is your primary choice of entertainment. Units that have an FM sensitivity of 9 - 11 dBf have better reception. The lower the number, the better the reception.
HD Radio: With High Definition Radio you can listen to FM radio in CD quality and AM radio in FM quality.
Satellite Radio: Audio programming broadcast via satellite means a wider coverage area than AM/FM and cellular based broadcasts. The subscription-based service provided by SiriusXM offers over 140 channels of audio entertainment. Some tuners may not be SiriusXM compatible and may need additional hardware (sold separately) in order to receive SiriusXM content
Car stereos can do more than just play music. Current models available will let you listen to the radio, play a CD or DVD, access apps on your smartphone, or even integrate with your vehicle's factory infotainment and vehicle information, such as HVAC controls and performance information. Depending on what type of control you require will directly affect the type of car stereo that you choose.
CD (Only) Receiver: Necessary if you would like the ability to play CD's. The majority of these units offer bluetooth/wireless or USB connectivity, giving you the capability to connect your smartphone for additional entertainment and convenience.
CD/DVD Receiver: Similar to the CD Receiver with the added ability of playing DVDs. This type of receiver is needed if you have rear entertainment in your vehicle.
Digital Media Player (Mech-less) Receiver: These decks do not contain a disc mechanism and therefore lack the ability to play CDs or DVDs. They still contain a radio receiver and are capable of connecting to a smart device, USB or SD Card inputs, meaning the majority of your entertainment and information will be provided by your smartphone or digital media storage device.
GPS/Navigation Receiver: This is basically an added capability of a receiver. Some of these models have the ability to play CDs or DVDs and some are Mech-less. The main advantage of this type of Car Stereo is that its navigation is provided by Satellite GPS, providing you with a larger coverage area than navigation based off of cellular towers, like the navigation found in smartphones and similar devices.
Additional Features For GPS/Navigation Receivers:
Guidance by Garmin: Garmin navigation software, offering a variety of display options to make your driving easy, such as Photo Real Junction View and Lane Assist.

Lane Assist: Lane Assist guides you to the correct lane for an approaching turn or exit, making unfamiliar intersections and exits a breeze to navigate.

Lane Information: Pioneer's proprietary app that displays the best lane to travel in for the quickest route.
If your current car stereo is not sounding a great as it once did, replacing the unit may not breathe new life to your audio system. If you are looking for sharpness and clarity, you may want to start with a speaker replacement. For more information about speakers please visit our Speaker Buying Guide.
Replacing Or Upgrading Your Factory-Installed Touchscreen Stereo
Upgrading Factory Installed Systems: If your factory installed receiver controls vehicle functions such as HVAC, factory installed infotainment and vehicle information, then you will want to make sure that the deck that you have selected will integrate with your vehicle. Car Stereos that are iDataLink Maestro RR compatible are specifically designed to interact with your vehicle's factory connected options allowing you to upgrade and still maintain control of factory installed functions.
iDatalink® Maestro™ RR: Is an OEM Radio replacement interface that can connect with the vehicle's factory systems such as hands free telephone, media player, steering wheel controls, HVAC, engine check codes, etc.
Driver's Safety
Many car stereos offer feature that are specifically designed with driver's safety in mind. Features such as Lane Departure Warning, Forward Collision Warning, Back Sensor and Blind Spot Detection are available on select car stereos. For more information please visit our Vehicle Safety Upgrades page.
Users Scenarios:
Commuter/Grocery Getter: Your vehicle is mostly used for driving to or from work or running errands. You may not need all the bells and whistles but some modern day convinces like Android Auto and Apple CarPlay might be nice to have.
Road Tripper: You spend a lot of your time in your vehicle, and hands-free smartphone connectivity is a must for you. Stream an endless playlist for that long road trip or receive real time traffic updates warning you of potential delays and detours.
Kid Taxi: The primary purpose of your vehicle is running errands or driving your kids to their next activity. Since time and conveniences are a commodity in your life, smartphone connectivity is a must. Now you can handle your phone calls, manage your messaging and even get directions to your next destination, all while keeping your hands on the wheel. One other option to consider is Rear Seat Entertainment. Now you have control over what your children watch as you are on the go.
Earth Shaker And Audiophile: If sound quality is important to you, then you will want a car stereo that supports Hi-Res audio files such as FLAC, sound quality that exceeds that of CDs. You will also want to make sure the unit is equipped with plenty of onboard audio functions such as a Graphic EQ, Time Alignment, Subwoofer Volume Control, Crossover and additional Sound Staging Functions. If you are planning on building a system, you will want to make sure that there is plenty of room for expansion in the way of Preamp outputs, this way you can add additional amplifiers and not have to worry about audio signal limitations.
Below is a list of options that are not so mainstream, but you might find come in handy. Please note, some of these options are proprietary and may not be available on all receivers.
Android Rapid Charge: A quick charger built-in to the receiver USB port that allows you to rapidly charge your Android device. Amperage of charger may vary depending on the receiver model.

AppRadio Live: Pioneer's proprietary AppRadio Live offers quick and easy access to personalized information needed in the in-vehicle environment including: Maps, Media, News and Calendar. In addition it has the capability to pull information from apps that you have selected and display it in the AppRadioLive interface.

Backup Camera Ready: Back-up camera input enables you to add a reverse (rear facing) camera that can assist with rear visibility, towing, or parking.

Capacitive Touchscreen: A type of touchscreen that is very responsive, like the screen on modern smartphones.

Clear Resistive Touchscreen: A type of display panel that features a high contrast ratio for brighter and sharper graphics/text.

Dash Cam Ready: Video Input for a dash camera. The video is stored on your receiver typically in 3 minute incremental blocks, the new video block continuously replaces the oldest video block. The number of video blocks stored on your receiver is determined by the amount of storage that the unit has. Additional safety features such as crash avoidance are offered depending on the manufacturer of the receiver.

Display Mode Off: The ability to shut off your receiver's display to reduce glare, this is useful when driving in extremely dark conditions.

Drive EQ: Adjusts the volume of specific frequencies with the audio signal to compensate for road noise.

Dual Camera Input: Two Camera inputs for Front and Rear cameras.

Dual Phone Connection: Enables 2 phones to be simultaneously connected. Each phone has the same capabilities such as, streaming music, managing phone calls/messaging etc. These capabilities are dependant on the receiver.

Dual USB: 2 USB ports available to connect your smart device or a flash drive/memory stick/thumb drive.

Dual Zone Entertainment: Enables rear passengers to have their own audio/video entertainment such as rear seat monitors or headphones while the front driver/passenger can listen to audio, access messaging etc.

Graphic EQ: A Graphic Equalizer allows you to adjust your audio system to your liking by boosting or cutting predetermined frequency ranges.

High Resolution Audio (Hi-Res): Allows playback of up to 192kHz/24bit resolution files such as FLAC, WAV, DSD and ALAC. Supported file formats may vary from manufacturer to manufacturer.

LED Backlight: The light that allows a flat screen or display to create an image.

Mix Trax: Creates a non-stop mix of user-provided music while displaying a dynamic dance club-like lighting effect on the receiver's display.

Motorized Display: A motorized display that can extract/retract into the receiver's housing, typically this happens when the unit is powered off, or when the CD or DVD slot is accessed.

OEM Integration: A car stereo's ability to connect to the vehicle's information, such as its heater controls, or monitor any system warnings.

Pandora: An internet radio app that lets you choose styles or bands of music that you like and mixes in music that is similar to your selection within the playlist. This is a great way to discover new music.

Parking Guidelines: Guidelines that are displayed when your backup camera is in operation to assist in navigating your vehicle.

Viewing Angle: The face plate can be angled for best viewing sightline.

Siri Eyes Free: Pioneer's integration of Apple's Siri app. With a touch of a button on the receiver's touchscreen, Siri will be ready to assist you.

Sirius XM: Satellite based radio with over 140 channels of audio entertainment.

Sound Retriever Air: Pioneer's wireless connection method that does not require cables to stream music to your receiver.

Speed Limit and Warnings: Speed limit notifications and traffic/hazard warnings are displayed based on your GPS location. This function is typically associated with Navigation equipped receivers.

Subwoofer Control: Adjustable volume control for the subwoofer.

Time Alignment: Enables user to adjust the speaker output timing so that all of the sound arrives in a specific area at the same time. Typically this is the driver seat position.

USB Direct Control for iPod/iPhone: One of Pioneer's methods of connecting your iPod/iPhone to the receiver (requires a USB cable). This method allows you to search and play music while it charges your iPod/iPhone.

Wireless: A connection between a device and receiver that does not require cables.

Wireless Music Browsing: Search and select songs from your music collection through a Bluetooth connection.
As you can tell, there are dozens of options for you to choose from. Make a list of which options matter most to you and that will help narrow your search down to a more manageable size. Using the filters within our Car Stereo pages will help you choose right the car stereo that is just for you. If you need further assistance you can always drop by your local Car Toys store, our staff of Product Experts and Professional Installers are happy to help you with all of your mobile entertainment needs.